PUMPKIN CUPCAKES FROM THE PRIMROSE BAKERY
PUMPKIN CUPCAKES
Less sweet and a little spicier than some of our other cupcake recipes, these would work their magic before a night of trick-and-treating and the inevitable basket of sweets that comes home afterwards!
If you can't find puréed pumpkin, cut a butternut squash into pieces, deseed and steam for about 30 minutes. Then mash, pass through a sieve and leave to drain for several hours to get rid of the excess water.
---
Makes 12 regular cupcakes
110g unsalted butter, at room temperature
240g soft light brown sugar
2 large eggs, free-range or organic
1/2 teaspoon good-quality vanilla extract
100g pur.ed pumpkin (sold in tins)
125g self-raising flour, sifted
120g plain flour, sifted
1/2 teaspoon ground cinnamon
1/2 teaspoon ground ginger
125ml buttermilk (or 120ml milk mixed with 1 teaspoon lemon juice)
To decorate
1 batch of Spiced Cream Cheese Icing
Ground cinnamon, grated nutmeg or Halloween decorations of your choice
---
Preheat the oven to 160°C (fan)/180°C/350°F/gas mark 4 and line a 12-hole muffi n tray with the appropriate size cupcake cases.
In a large mixing bowl cream the butter and sugar until the mixture is pale and smooth, which should take about 3–5 minutes using an electric hand mixer. Add the eggs, one at a time, and the vanilla extract, beating well aft er each addition. Add the pumpkin and beat until just combined.
Combine the flours, cinnamon and ginger in a bowl. Add one-third of the flours to the creamed mixture and beat until just combined. Add half of the buttermilk and beat again until just combined. Repeat these steps until all the flour and buttermilk have been added.
Carefully spoon the mixture into the cupcake cases, filling them to about two-thirds full. Bake in the oven for about 25 minutes until slightly raised and golden brown. To check they are cooked, insert a skewer in the centre of one of the cakes – it should come out clean.
Remove from the oven and leave the cakes in their tins for about 10 minutes before placing carefully on a wire rack to cool.
Once they are completely cool, ice the cupcakes with spiced cream cheese icing and decorate with a sprinkling of cinnamon or nutmeg on the top or some Halloween decorations, if that's the occasion.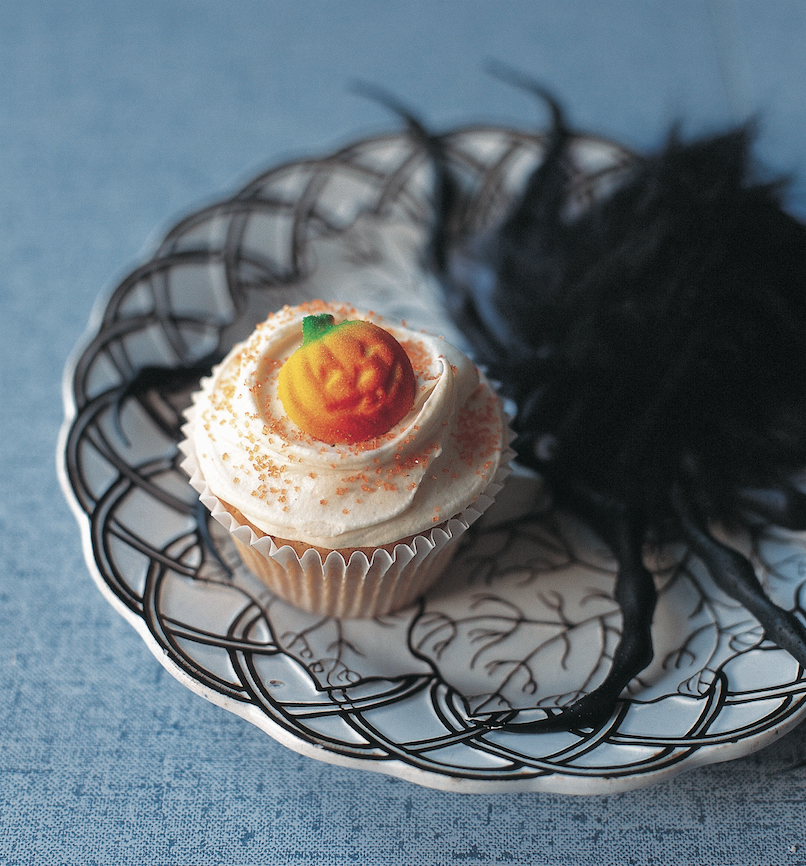 SPICED CREAM CHEESE ICING
A simple variation on the orange cream cheese icing from earlier in the book, this one could also work well with the carrot cupcakes but is especially delicious with the pumpkin cupcakes on a cold and windy Halloween night.
---
Makes enough to ice about 15 regular cupcakes
175g cream cheese
450g icing sugar, sifted
125g unsalted butter, at room temperature
1/4 teaspoon ground cinnamon
Pinch of ground cloves
---
Place all the ingredients in a mixing bowl and beat well until thoroughly combined and the icing is smooth and pale.
This icing must be stored in the fridge as it contains cream cheese, but will keep well. Before re-using, let it come to room temperature and then beat again.
More recipes in Cupcakes from the Primrose Bakery